Dawn of Japanese

"Monozukuri (Manufacturing)"
Center of Garage (CoG) is a unique incubation place where deeptech startups, Japanese Super Factories, and big corporations come together. We provide all the possible supports to accelerate innovation of deeptech startups all over the world. Chemical reaction occur between different stakeholders will lead all the participants to experience Re-Renaissance of Japanese "Monozukuri". This activity, we believe, contribute a lot in solving problems related to manufacturing in the world.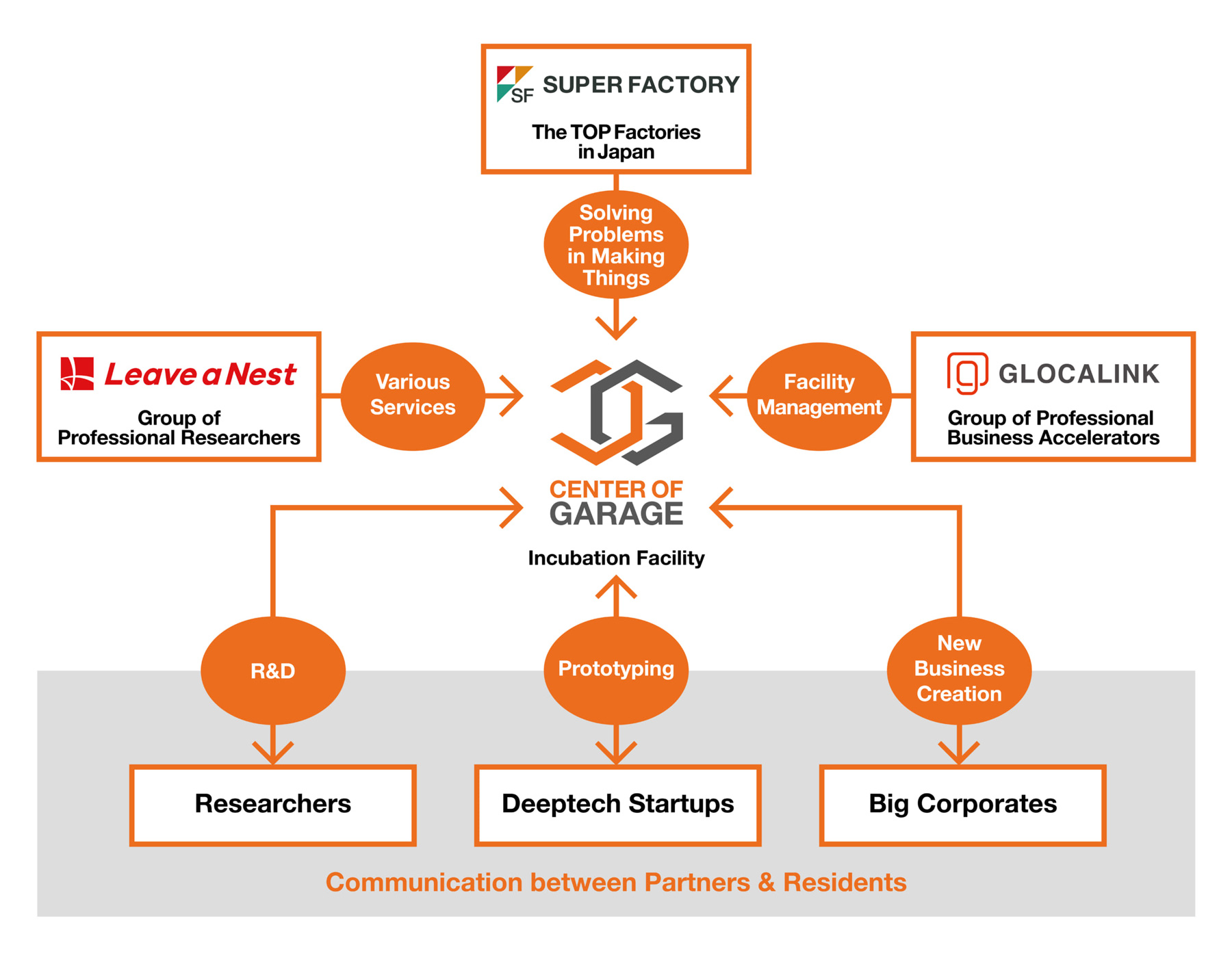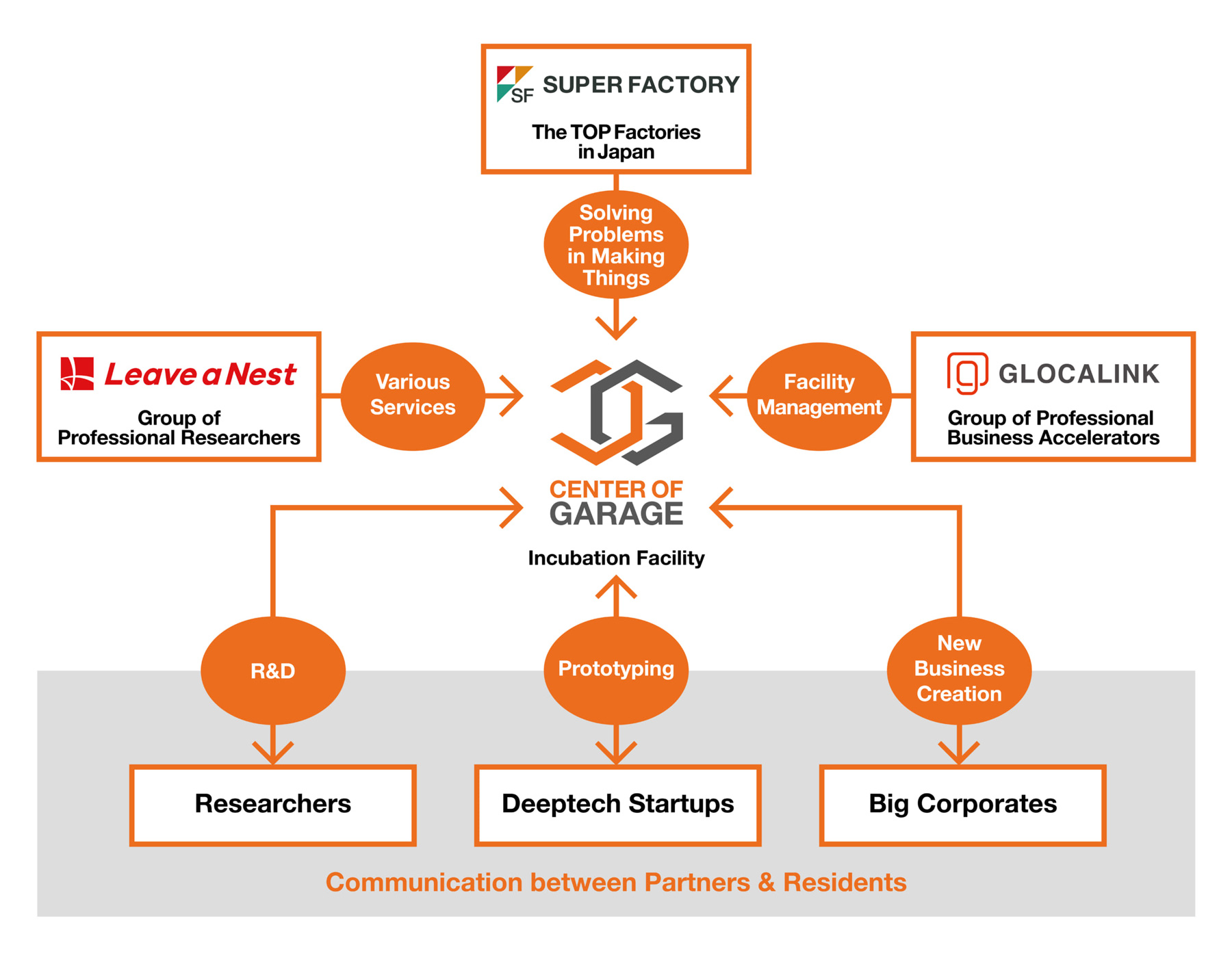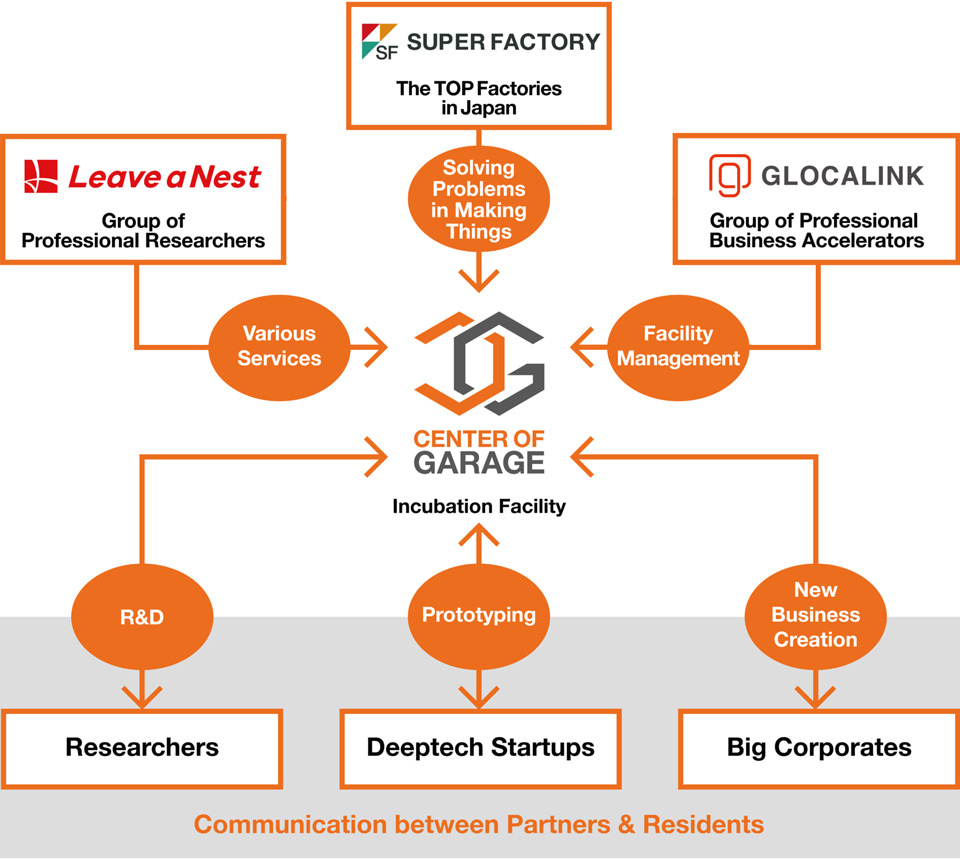 6 Major Support
provided by CoG
1

Facility Managed by Glocalink

Facility management is led by Glocalink Inc, a proven angel investor/business accelerator in Japan.
As your escort runner, Glocalink will help you realize making things.

2

Knowledge Platform provided by Leave a Nest

Various services provide by Leave a Nest Co., Ltd. The Knowledge Platform of Leave a Nest connects you to academic researchers, factories, and big corporates based on your needs.
Leave a Nest help your technologies to be implemented to our society.

3

Manufacturing Support by Super Factory Group

All the possible manufacturing support is conducted by "Super Factory Group", SME type Japanese factories passionate on new business development.
We continuously connect CoG and these factories via webcam to solve your problem sets regarding to making things.

4

Manufacturing space available

A "manufacturing space" equipped with a 3D printer and other digital fabrication is available. Technical staff will support startups in prototyping. Giving form to ideas as quickly as possible, we can speed up product development.

5

Exhibit at the Garage Museum

The Garage Museum is a future-creating exhibition space for startups based in rural areas. Prototypes and products of local startups will be exhibited and explained in detail by the COG operating staff to visitors from Japan and abroad, creating new opportunities for collaboration.

6

Online Events Supporting!

We provide the optimal environment for live distribution of pitch events, press conferences, seminars, demonstration tests, etc. Our services, including the dispatch of professional personnel for sound and camera photography, enable the production and distribution of high-quality visual content.
Floor Information
Open
9:00~21:30
(open year round)
Dedicated Rooms
1F: 8 rooms (Sold-out)
2F: 16 rooms (Sold-out)
Closed MTG Rooms
7rooms
(6~19 ppl/each room)
Others
9 Panel-Multi-display, Projector, Screen, Wireless LAN, Kitchen, 3D printer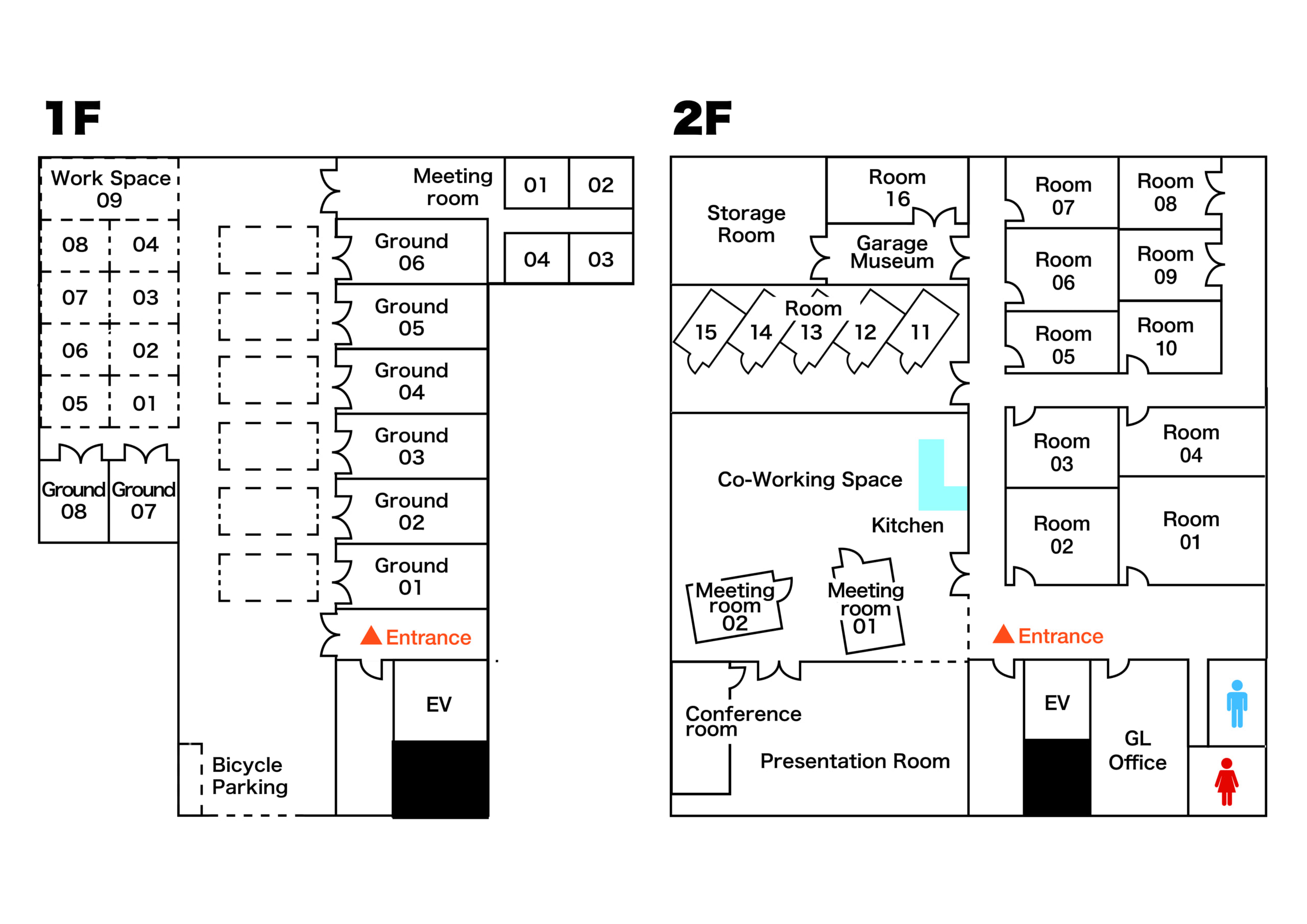 Coworking Space

The coworking space is a spacious 300m² with high ceilings and an open atmosphere where communication with other tenants naturally takes place. There are two box-shaped meeting rooms as well as a counter-style kitchen space.

Presentation Room

The presentation room can accommodate up to 70 people. Pitch events inviting various companies are held at this location, and in-house events can also be held with pre-registeration.


1F Office room with work space

Six office rooms with work space. Each room has a uniform area of 30.4㎡, with a 26.5㎡ open-type work space in front of the room. The 6-meter-high ceilings can be used for a wide range of needs, including prototype assembly and demonstration testing.

2F Office Rooms

16 office rooms can be selected according to the size of your team. Rooms vary in size from 24m² to 55m² and can be utilized in a variety of ways.

Garage Museum

The Garage Museum is a place where prototypes and products of resident companies can be displayed. The museum has a maximum of 23 permanent booths, where prototypes can actually be put into operation, and the management staff will provide detailed explanations to the various visitors to COG.

Fabrication Space

A "fabrication space" with 3D printers and other digital crafting equipments have been set up. Staff skilled in handling the equipment will assist tenants in prototyping. By turning ideas into a prototype, you can speed up the process of product development.
Residential Fee for startups
| | | |
| --- | --- | --- |
| 1F Dedicated Rooms | 38.0m² to 57.4m² | Sold-Out |
| 2F Dedicated Rooms | 11.1m² to 55.1m² | Sold-Out |
| Hot Desk | 70ppl / room | 15,000 JPY/month |
| Garage Museum | 23 booths | 30,000 JPY/month |
Office Room
24 office rooms are available based on the team's size. The size of each room is varied from 11.1m² to 57.4m².

Presentation Room
Presentation room can host 70 ppl at max. We will conduct pitch event with our partner companies (Including Leave a Nest & Glocalink's partners). If you are partnered with CoG, then you can arrange your own event.

Co-Working Space
You are welcomed by 300m² large coworking space. High ceiling space gives you a calm feeling, and the relaxed mood help you communicate with other residents and partners. We also have 2 closed box-type mtg rooms, and the kitchen space with a huge counter.
Access to CoG
1-16-3 Yokokawa Sumida-Ku, Tokyo, Japan, 130-0003

12 min walking distance from Oshiage Station
(Tokyo Metro Hanzomon Line/ Toei Asakusa Line/ Keisei Line/ Tobu Skytree Line/)

10 min walking distance from Honjoazumabashi Station
(Toei Asakusa Line)